You have skipped the navigation, tab for page content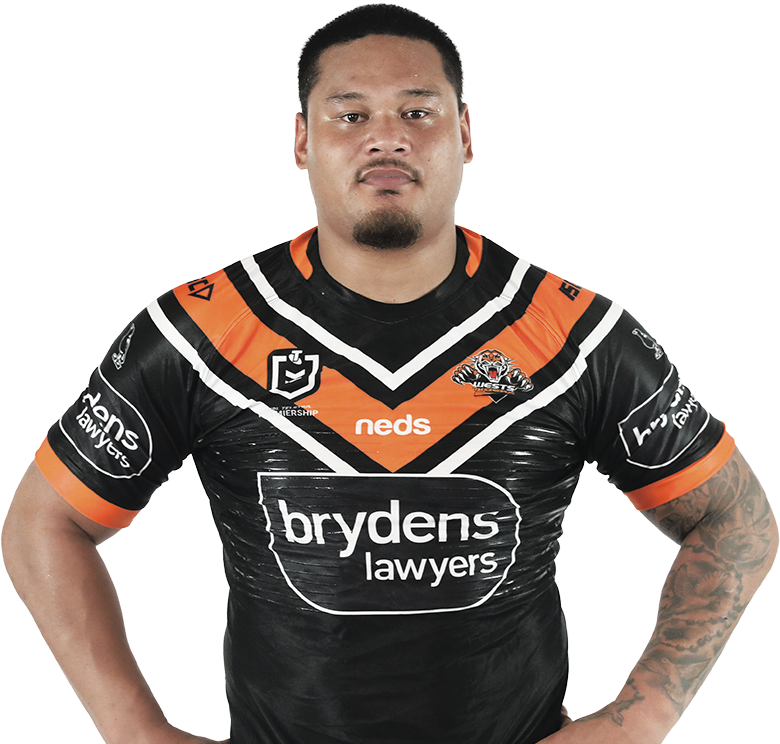 Joseph
Leilua
Centre
Player Bio
Height:

186 cm

Date of Birth:

12 December 1991

Weight:

106 kg

Birthplace:

Sydney, NSW

Age:

28

Nickname:

BJ
Debut Club:

Sydney Roosters

Date:

31 May 2010

Opposition:

Gold Coast Titans

Round:

12
Previous Clubs:

Sydney Roosters, Newcastle Knights, Canberra Raiders

Junior Club:

Hurstville United
Biography:

A standout junior representative player following selection in the 2009 Australian Schoolboys, Joey Leilua would make his first-grade debut in Round 12 of the 2010 season for the Sydney Roosters — going on to play 17 matches which included an appearance in the 2010 Grand Final defeat to St. George-Illawarra.

Leilua would cap off a superb rookie season by being named in the initial squad for the New Zealand Kiwis' Four Nations campaign, but was not selected in the final team.

Resuming as a regular in the Roosters squad, Leilua would go on to play another 43 matches across the next two seasons for the Tricolours — scoring 16 tries — before inking a long-term with the Newcastle Knights for the start of the 2013 season.

He would continue to attract the eye of representative coaches in that time, first with selection in the Emerging Blues squad before dominating for NSW City Origin against Country during the season. Leilua was named as part of the extended Blues Origin squad, but was not selected in 2012 as the Maroons chalked up another series win.

Leilua would score 10 tries in his debut season for the Knights in 2013 and eventually made his representative debut for Samoa at the Rugby League World Cup.

Bringing up his 100th game the following year, Leilua would continue to shine for both the Knights and Samoa before being granted a mid-season release in 2015 to join the Canberra Raiders effective immediately.

It was at the Green Machine that Leilua's career would go to another level, with the centre forming a formidable partnership with Jordan Rapana on the right wing.

In his 91 games for the Raiders between 2015 and 2019, Leilua would chalk up 48 tries at a rate better than one try every two matches — twice winning the Dally M Centre of the Year in 2016 and 2018 and again featuring in a Grand Final as the Raiders went down to the Sydney Roosters in 2019.

Signed on a three-year deal by Wests Tigers ahead of the 2020 season, Leilua will link up with his younger brother Luciano for the first time in his career and is signed through at the club until the end of the 2022 season.
2020 Season
Attack
Try Assists

4

Line Breaks

4

Tackle Breaks

49
Defence
Tackles Made

133

Missed Tackles

23
Running Metres
Average Running Metres

95

Total Running Metres

1341
Fantasy
Total Points

456

Average Points

32.6
2020 Season - By Round
2020 Season - By Round
Round
Opponent
Score
Position
Minutes Played
Tries
Goals
Points
Kicking Metres
Forced Drop Outs
Try Assists
Linebreaks
Tackle Breaks
Post Contact Metres
Offloads
Receipts
Tackles Made
Missed Tackles
Total Running Metres
Hit Up Running Metres
Kick Return Metres
1
Dragons

Won

14 - 24
Centre
80
-
-
-
-
-
-
-
2
32
1
10
11
2
101
16
-
2
Knights

Lost

24 - 42
Centre
80
-
-
-
2
-
-
-
4
25
3
11
10
4
66
2
-
3
Sharks

Won

16 - 28
Centre
80
-
-
-
-
-
-
-
5
63
1
15
2
-
130
8
-
4
Titans

Lost

28 - 23
Centre
80
1
-
4
24
-
-
-
4
50
2
17
2
-
127
-
-
5
Raiders

Lost

6 - 14
Centre
80
-
-
-
30
-
-
-
3
40
1
16
8
1
85
-
-
6
Cowboys

Won

36 - 20
Centre
80
1
-
4
-
-
-
1
2
42
1
13
9
1
120
-
1
7
Bulldogs

Won

6 - 34
Centre
80
1
-
4
24
1
1
1
6
17
4
11
9
1
80
-
-
8
Panthers

Lost

12 - 19
Centre
78
-
-
-
-
-
-
-
6
50
3
17
11
2
147
34
-
13
Knights

Lost

44 - 4
Centre
80
-
-
-
-
-
-
-
6
48
-
13
11
4
104
-
-
14
Bulldogs

Won

29 - 28
Centre
80
1
-
4
17
-
1
1
3
12
1
12
17
3
74
-
-
15
Roosters

Lost

16 - 38
Centre
80
-
-
-
-
-
-
-
2
38
4
15
5
1
110
-
-
16
Panthers

Lost

30 - 6
Centre
80
-
-
-
-
-
-
-
2
18
2
13
12
1
67
18
-
17
Sea Eagles

Won

32 - 34
Centre
80
-
-
-
-
-
2
1
2
16
1
18
8
1
75
23
-
19
Storm

Lost

50 - 22
Centre
80
-
-
-
11
-
-
-
2
14
-
14
18
2
49
-
-
Career By Season
Career By Season
Year
Played
Won
Lost
Drawn
Win %
Tries
Goals
Points
Kicking Metres
Kicking Metres Average
Goal Conversion Rate
Forced Drop Outs
Try Assists
Linebreaks
Receipts
Tackles Made
Missed Tackles
Tackle Efficiency
Total Running Metres
Average Running Metres
Kick Return Metres
Total Points
Average Points
Roosters
2010
17
11
6
-
65%
3
-
12
47
2.76
-
-
3
5
-
178
23
77.97%
1,259
74.00
158
-
-
Roosters
2011
23
9
14
-
39%
11
-
44
69
3.00
-
-
1
15
-
99
22
70.79%
2,469
107.00
491
-
-
Roosters
2012
19
7
11
1
37%
6
-
24
84
4.42
-
-
4
9
-
162
27
80.28%
1,575
82.00
168
-
-
Knights
2013
19
10
8
1
53%
13
-
52
-
-
-
-
5
10
281
190
29
82.12%
2,253
118.61
37
293
15.0
Knights
2014
22
10
12
-
45%
11
-
44
67
3.03
-
1
13
11
319
214
31
84.93%
2,655
120.72
3
735
33.0
Raiders
2015
19
6
13
-
32%
6
-
24
46
2.40
-
2
5
7
273
171
31
76.56%
2,025
106.63
3
612
32.0
Raiders
2016
25
18
7
-
72%
11
-
44
184
7.37
-
1
10
14
414
245
27
88.57%
3,204
128.16
17
1,196
47.0
Raiders
2017
24
11
13
-
46%
10
-
40
72
3.02
-
-
7
6
361
198
44
78.10%
2,521
105.00
1
783
32.6
Raiders
2018
24
10
14
-
42%
14
-
56
61
2.55
-
2
3
13
330
215
46
77.37%
2,496
104.00
24
848
35.3
Raiders
2019
12
8
4
-
67%
4
-
16
55
4.55
-
-
2
7
148
124
20
84.77%
1,212
101.00
3
414
34.5
Wests Tigers
2020
14
6
8
-
43%
4
-
16
109
7.79
-
1
4
4
195
133
23
83.11%
1,341
95.00
1
456
32.6
Career Overall
Career Overall
Year Start
Year End
Played
Won
Lost
Drawn
Win %
Tries
Goals
Points
Kicking Metres
Kicking Metres Average
Goal Conversion Rate
Forced Drop Outs
Try Assists
Linebreaks
Receipts
Tackles Made
Missed Tackles
Tackle Efficiency
Total Running Metres
Average Running Metres
Kick Return Metres
Total Points
Average Points
Roosters
2010
2012
59
27
31
1
46%
20
-
80
200
3.39
-
-
8
29
16
438
69
76.13%
5,132
86.00
800
-
-
Knights
2013
2015
54
25
28
1
46%
30
-
120
98
1.82
-
3
21
28
807
512
82
82.01%
6,449
119.00
44
1,941
35.9
Raiders
2015
2019
91
48
43
-
53%
39
-
156
387
4.25
-
3
24
40
1,319
845
146
81.51%
9,947
109.00
47
3,347
36.8
Wests Tigers
2020
2020
14
6
8
-
43%
4
-
16
109
7.79
-
1
4
4
195
133
23
83.11%
1,341
95.00
1
456
32.6